Are you worried about the overly grown grass in your yard? Do you want to maintain the tall grass in your backyard? Are you fed up with long and nasty grass on your neglected lawn?
If so, then stay with us to restore the beauty of your deserted lawn by using a riding mower.
The arduous task of cutting long grass requires some planning, basic tools, and experience with a riding mower. Cutting tall grass with a riding mower is not much difficult if you know the right technique of cutting long grass without damaging the grass plant.
How to cut tall grass with a riding mower? Before cutting long grass, clear the area of all obstacles and hazards, cut the extra height of grass with a trimmer, adjust the height of sharp mowing blades to maximum, and now start mowing with minimum speed to prevent possible damage to grass and mower as well.
Never mow when the grass is wet and no more than the suggested height in one pass. Also, read the manual carefully before starting with a riding mower for efficient mowing without damaging your mower.
Keep reading to learn more.
Can You Cut High Grass With a Riding Mower
Can you cut the high grass that is more than 8 inches tall, with a riding mower?
Though riding mowers are not made to cut taller grass more than 7 to 8 inches high. Plus, cutting of extra-long grass will be done slowly and therefore exert more pressure on the mower.
Therefore, in the beginning, a trimmer should be used to cut the grass to 7 to 8 inches high. Then you can cut your grass with a riding mower or regular mower to the desired height.
Mowing high-grown grass too short in the first attempt is quite damaging to the health of grass blades.
How to Cut High Grass With a Riding Mover: 4 Easy Steps
Mowing tall overgrown grass is not an easy task. It requires some patience and the right technique. While improper mowing can ruin your grassy lawn and damage your mower too.
For efficient and quick mowing, follow these basic steps to restore the beauty of your lawn without damaging the grass.
#Step-1. Clear the Ground
For even mowing and to avoid any damage to your mower, clear the ground of any debris, stones, obstacles, or branches if any. Remove the watering tools and other gardening objects that can hinder or stop the smooth working of the riding mower.
Collect or rake up extra mulch because it can bog your mower and slow down your work.
#Step-2. Prepare your Tools
To carry out the daunting job of cutting high grass, the following tools are required:
#Step-3. Choose the Right Time
After you have made all the preparation, choose a dry or less humid day for mowing. Tallgrass contains more moisture and is harder to grab wet grass for effective mowing.
Wet grass is extremely challenging, harder for mowing blades for proper cutting, and exerts more stress on your riding mower.
In short, a dry day is good to go with mowing whether your grass is tall or short.
#Step-4. Cut High Grass With a Trimmer to a Safe Level
Mowing thickly overgrown grass taller than 8-9 inches should not be done with a riding mower. It can overburden the mower and result in poor cutting by causing much damage to the grass blades.
Bring your tall grass to a safe height of 8-9 inches by using a trimmer, collect the clippings, and put them aside for mulching or compost.
How To Cut Long Grass With a Lawn Mower: Cut Slow & Gradual
Before getting started with a lawnmower, you have to adjust the setting of blades to the highest level as it is more suitable for long grass.
While mowing tall grass be wary, don't cut grass more than one-third of the total height in one pass. Mowing more than the suggested length would clog up or stall the mower and weaken your grass.
Gradually cutting will make your work easy and result in excellent mowing. We recommend cutting your nasty long grass in a few passes. First, cut the top layer of your grass. Pause the mowing for a day or two and allow the grass to recover. Then you can continue mowing again to get an ideal length of your grass for an incredible lawn.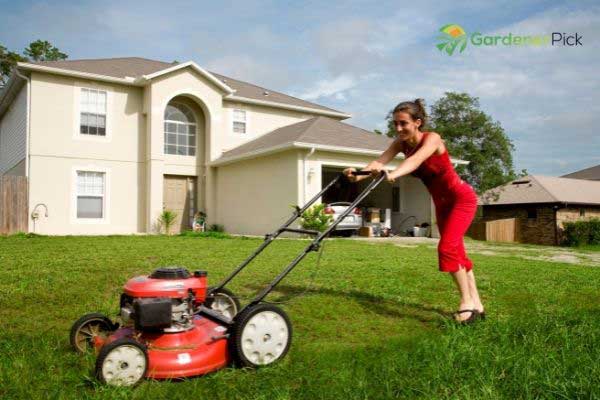 Mowing Tall Grass With A Riding Mower: Prepare the Mower
Before starting your chore of cutting tall grass, make sure your mower is fully prepared.
Install the collection bag if necessary to prevent any clogging.
Set the mower blades to their highest setting because cutting high grass too short can destroy the grass blades.
Set your riding mower to its minimum speed to tackle tall grass safely and evenly. Mowing tall grass quickly leads to rough and uneven cutting of grass blades. 
Protect yourself and proceed while riding on your mower and start mowing. Read the mower's manual carefully to learn all settings to get rid of overgrown grass without damaging your lawn.
To Cut High Grass With A Riding Mower: Start Mowing Now
After making all adjustments, begin mowing high grass on a small area to check the mowing results. If the cutting height is up to the safe limit, then keep on mowing to get desired results.
Despite its height, tall grass should be cut slowly and no more than one-third of its total length. The best way to preserve your grass is to be gentle and don't put stress on the grass by mowing too much in one attempt.
For ideal mowing of thick and tall grass, you should extend your mowing task to 2-3 days if necessary. Haste in mowing can destroy your grass including your mower. If you are working on a big yard then stop your mower after every 40 or 50 minutes to keep the mower from heating up.
Empty the Bag and Check the Area for Even Mowing
For the proper working of the riding mower, empty the bag when needed to avoid bogging. If you are working without a bag then be careful to remove the extra clippings to prevent your grass from smothering.
After you have completed the circuit of mowing, check whether all the grass is cut evenly and to the desired height. If not, you should pass the mower once again to make it even or to the desired length.
If you are happy with your mowing results then be proud of your beautiful and tamed lawn. If not, then let your grass take some rest for a couple of days or mow once again until the desired results are achieved.
How To Cut Long Grass With a Ride on Mower
It's easy to leave your grass untrimmed and unchecked but it's challenging to restore the grace of your lawn. While working with a riding mower to tidy up your tall and coarse grass is not too difficult.
For an ideal and even cutting of long grass, follow these simple tips.
Start tedious work of mowing tall grass on a dry or sunny day preferably in early summer or spring. Never mow wet grass.
For the smooth and effective working of the mower, sharpen the blades.
Use a grass bag for clippings, it's difficult to clean or rake up large areas.
Adjust the speed of the mower to a minimum while setting the height of blades to the maximum level for proper and efficient mowing of tall grass.
Mowing overgrown grass takes time, resting pauses are necessary to prevent overheating of the engine due to mowing stress.
Don't haste while mowing tall grass, cutting grass at once more than ⅓  will damage the grass plant. Give your grass some rest to recover from stress before mowing once again to obtain the ideal height.
While mowing, careful working in a circuit is essential for precise and even mowing.
Don't forget to adjust the height of mowing blades to the desired range while cutting your grass for the second time.
Depending on the area of your yard, mowing tall grass can extend to a few days until the required results are obtained.
If your grass is extra tall, first cut your grass to a safe height with a trimmer. Don't forget to remove twigs, all debris, mulch, and other objects from the yard to prevent unexpected damage or clogging to your mower.
How To Cut Long Grass or Weeds Without a Lawn Mower?
To mow long grass without a lawnmower requires some extra labor and patience but is still possible. Many things can be employed to maintain your yard like a scythe, sickles, shears, scissors, etc.
How to cut long grass or weeds without a lawnmower? You can cut long grass easily by using a string trimmer or a hedge cutter. A trimmer or weed eater cuts the long grass or weeds with its sharp and huge rotating metal blades that are attached at the end of a long handle.
Though cutting your tall grass with a trimmer, will take more time yet it is quite effective and easy to use. Hence, a trimmer is best to maintain a smaller yard or to cut extra long grass to a safer height suitable for a ride-on mower.
Most Asking Questions
Should You Bag Grass Clipping or Leave it on The Lawn?
While mowing tall grass, long clippings should be collected or expelled out from the grass to prevent smothering. Whereas, the short clippings of second mowing should be left evenly on the grass to decompose naturally. Clippings are the best fertilizer as they release nutrients and shade the ground and also make your grass thicker and healthier.
How to Cut Tall Grass 3 Feet High with a Riding Mower?
Riding mowers are designed to cut grass that is up to 8 to 9 inches high. Firstly, extra-tall grass should be cut short roughly with a trimmer or weed eater to the height of 9 inches. Secondly, the remaining grass should be cut with a lawnmower but no more than one-third of the actual height in one pass. Mowing tall grass too short in one attempt will weaken the grass and wreck your lawn as well.
Final Thoughts
To manage an overgrown nasty lawn is quite challenging and arduous. But in the end, a tidy and perfectly trimmed lawn can make you feel proud. However, the use of technology has made mowing work quite easy, you only need some planning, correct information, and proper use of a riding mower.
After making all preparations and adjustments, the cutting of tall grass with a riding mower is not much laborious. But it would be better to maintain the beauty of your yard by mowing regularly rather than to let it grow unchecked and neglected.