As a lawn owner, you have to face a lot of challenges regarding your lawn health and well growth. Each lawn is affected by different insects that will destroy the lawn in a few months or sometimes in a few days.
For lawn owners, it may be a difficult situation to control insects in their plants. For this, Sevin Dust is recommended to get rid of all harmful insects.
Do you know how long it lasts? When do you reapply it on your lawn?
Let me tell you!
Normally, it will work successfully at least three months after applying to the plant. Don't water the plant or grass after spreading it. Water and rain will make the dust weak and reduce its effectiveness.
Here comes confusion. In the situation when your lawn needs water, what should you do? To fulfill the needs of the lawn, you have to keep your plants under observation. Water them and reapply the sevin dust where you need.
Don't forget to follow the safety instructions as each pesticide has chemicals in it. That will be dangerous not only for you but also for your pets.
You can understand this topic more deeply after reading this post. So, let's explore it!
How Long Does Sevin Dust Take To Work
As you know, Sevin Dust is one of the most powerful insect killers that can kill about 65 insects without harming your plants. It shows its effect as soon as an insect comes near to it or touches it.
What happens if you don't find the desired result in a short period? It must be a critical situation when you find nothing effective after applying Sevin Dust.
What is the reason?
It means you have spent more time on your lawn and try to understand your fault. Generally, Sevin Dust requires a long time to show its result. Maybe it will take days or weeks. To avoid too much waiting for the result, just try to know how you apply it?
It's so simple, spread the dust with the help of a sprinkler and cover all the area that you have suspected from insects. Amazingly, you will soon see what you want. Your lawn will be cleared magically from insects.
Let's enjoy an informative video about how Sevin Dust works.
How To Apply Sevin Dust
Have you taken the decision of using pesticides for your garden or plants? If yes, it must be a good commitment for your plants. You must raise them like a kid.
After selecting a suitable pesticide for the garden like Sevin Dust, you must be aware of the right method for applying it. How do you apply Sevin Dust to your lawn? It is important to know because a little mistake may kill beneficial insects also.
Here are some easy steps that will help you to sprinkle Sevin Dust correctly.
Step 1: Find Out the Problem
Sevin Dust is designed to kill many species of insects as soon as they touch the dust. The question is what type of insect is teasing you?
First, figure out the issue and the entrance of those insects. Then it will be easy for you to control them from spreading and you can kill them easily. Be careful and save your plants from touching the dust.
Step 2: Way to Apply
Don't think the process of applying dust is a hard task. It's very simple and easy. There is no need to worry about the measurements and quantity of the powder.
Just shake the pack or bottle of Sevin Dust and spread it carefully by covering all the garden. Try to focus on the areas where you find the insects coming. Put the dust on those parts especially those that are affected by insects.
If the leaf top is destroyed, apply the dust fully from top to bottom to stop the destruction from spreading. If the roots are infected, apply a coat of Sevin Dust to the roots and cover them completely.
How To Clean Snow Blower Carburetor Without Removing It? Fast!
Step 3: Take Care of Timing
Timing is also important. If you apply the dust too late and the infection spreads all over the plants badly, there is no way to save your plants.
That's why to be conscious about the timing and check your plants continuously. As you see the first sign of insects attacking, take action immediately and apply the dust on that part. It will stop the infection from going towards other parts.
The application should be done only in dry weather because rain will wash away the dust. Water your lawn according to its need before using Sevin Dust and take a gap of at least seven days for watering again.
Step 4: Care About Health
Your health is the most important factor. Your skin may be infected when it comes in contact with the Sevin Dust or you may get inhalation problems if you inhale it through breathing.
To avoid such health issues, wear long pants and a full sleeves shirt. These will protect your skin from any damages. For hand safety, rubber gloves are essential. On the other hand, don't forget to wear a dust safety mask to avoid breathing problems while applying Sevin Dust.
Be sure while using Sevin Dust that there will be no wind and the weather will be calm. Stay away from your child and pet from the garden. For food plants, make the time distance of more than one week to apply Sevin Dust. Always wash the fruits and vegetables before eating.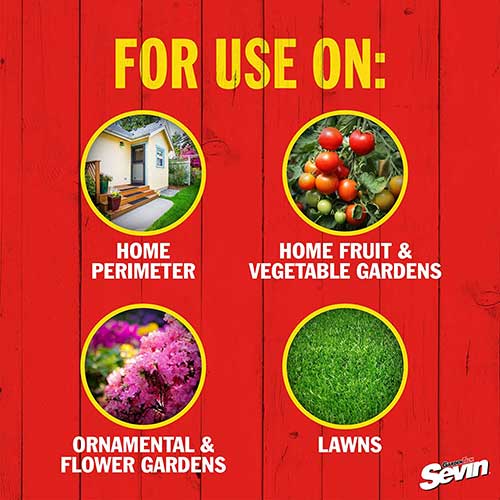 Frequently Asked Questions
How Long Does Sevin Dust Stay in Soil?
Sevin Dust stays in the soil at least for three months after application. You can apply again after a gap of seven days.
How Long Does it Take For Sevin Dust to Work?
It can take a few weeks to get the desired result if you use Sevin Dust directly to plants. It takes such a long time because it has to work fully to remove insects.
Can You reapply Sevin Dust after Rain?
Apply Sevin Dust directly 24 hours before you are looking for rain. If you face rain after that, there is no need to reapply it.
Bottom Lines
So, here we come to the point to enclose our discussion about how long does sevin dust last?
It is clear that Sevin Dust is considered one of the best pesticides for killing insects. Why is it best?
It is fast-working and shows quick results by killing most harmful insects. Additionally, it will keep working for at least three months after you apply it to your lawn. The effect of it may be reduced after watering the plants but you can reapply it.
Hopefully, this post will prove a guideline not only for you but also for the new gardeners and lawn lovers.