Are you fond of gardening? If yes, you must know that a wheelbarrow is a vital tool to have in your equipment collection. A wheelbarrow is a straightforward invention to look at, but it helps one carry around the heavyweight with full comfort without putting pressure on their backs!
How much does a wheelbarrow cost? It can cost you anywhere between $50 to $200. The prices vary according to your needs and the kind of wheelbarrow you are looking for. It also depends on the features of the wheelbarrow. There are wheelbarrows available in the market that cost above $1000 but that kinds of wheelbarrows are mostly used for industrial purposes. 
There is not a fixed price range on wheelbarrows because it depends on the material it is makeup off. The content can be wood, plastic, or steel all of which have their perks as well as drawbacks. The wheelbarrows available in the market these days may have one, two, or even as many as four wheels! The wheelbarrows are usually manually pushed, but if the need occurs, electric wheelbarrows are also produced these days. These are mainly used on construction sites to carry heavy construction materials or in different industries to send their raw materials.
How to distinguish which is a functional wheelbarrow for you?
A wheelbarrow is one of the most valuable transportation equipment to date. It can be evaluated for various purposes, from gardening to carryings things from one place to another, and even kids like to play with them! Wheelbarrow users lift the handles of the barrow to distribute the load to the tire and push it forward so that they can carry the weight from the starting point to the ending point with absolute ease. It is designed uniquely so that the load is balanced between the wheel and the wheelbarrow operator. Are you thinking of investing in a wheelbarrow but unable to figure out exactly how much to spend and what to base that decision on? Then keep on reading!
As mentioned earlier, there are various types of wheelbarrows available in the market. The one that suits all your needs is a functional Wheelbarrow for you. First of all, you need to identify your need. What is the area of the lawn that you need to cover, and what kind of operations will you carry out using the Wheelbarrow. Once that is decided, it will help you shortlist the most high-quality Wheelbarrow for yourself.
The material of the Wheelbarrow
One of the main features to think about before finalizing a wheelbarrow is to pay attention to the kind of material it is. It may make out of plastic, cloth, wood, or steel. If you only want to use it for your backyard, then maybe timber or plastic-made trays will work fine for you.
Still, if the use of the barrow is to carry heavier loads then possibly a metal tray will be of your use because for heavier loads, plastic, wood, or cloth-made plates will not be okay and might give up on you sooner than you may want.
A metal tray is more durable and heavier made itself, which means it can carry heavy loads with ease. An excellent simple plastic double tire wheelbarrow may cost you around $60 with almost a 300- pound capacity. A single tire heavy-duty steel wheelbarrow with a six cubic feet capacity may cost you around the same price, which is $60.
Weight Lifting Capacity
A wheelbarrow made of metal is capable of lifting heavyweight as compared to others. Some may carry around 500 kilos or more, but these are more suitable for commercial use. Some wheelbarrows come with polythene bags, and these are preferred as they are incredibly lightweight and easy to push around. A heavy-duty wheelbarrow with a 400-pound capacity and a seven cubic ft tray will cost you about $158.
Brakes & Wheels
A wheelbarrow might have one, two, or four wheels. The four-wheeled Wheelbarrow is usually electric and is using commercially, but now some manufacturers have made them for residential users as well. The two-wheeled Wheelbarrow is the right choice if you are looking to carry around heavyweights, and if you only need it for your backyard, then a single-wheeled wheelbarrow will be perfect for you and will not even cause a hole in your wallet. It also offers quick movement and gets the job done faster.
The Wheelbarrow must have pegged rests, which may allow you to park your barrow on the side and rest without having to worry that all your raw materials will fall to the floor.
A heavy-duty four-tires Wheelbarrow will cost you around $203 with a capacity to carry around 1400lbs. A wheelbarrow with 600lb Capacity and four tires can cost you about $111.
Non-Rustic
The Wheelbarrow that you are about to choose must be rust-resistant. If you invest in a plastic barrow, then you don't have to be tensed about rusting, but if you are buying a metal wheelbarrow, then it should come with stainless steel so that you can rub away the rusting of the metal.
Uses of a Wheelbarrow
Wheelbarrows are highly made use of by gardeners to reduce strain on their backs. They carry around heavyweights such as soil quite easily with a wheelbarrow. They even fit plant pots into wheelbarrows and carry them, which saves them time and reduces the back and forth trips. You can also pick up sticks and any such things in your Wheelbarrow before mowing the lawn so that the blades of your lawnmower do not get affected.
Some people use old barrows as permanent trays for flowers, but this is not the most excellent choice as it can cause corrosion in the Wheelbarrow. If you wish to use the Wheelbarrow for this purpose, then you can make holes in the tray, so that the excess water can be draining out.
When your Wheelbarrow gets rustic and old, this might take a few years, though… It can still be useful for you. It can be used for plantation and add grace to your garden. Fill it up with soil, make holes in the tray for water drainage, and then plant the desired flowers, fruits, or vegetables! That will not only provide extra space and act as a planter but will also look attractive to the passer-by. Your garden planter idea may then be copied by many in the neighborhood!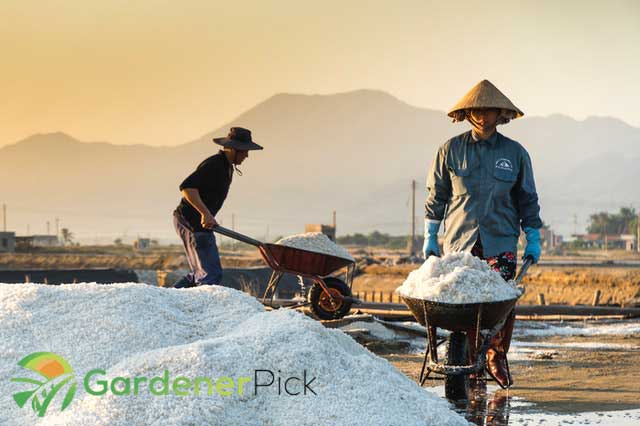 For construction sites, wheelbarrows are used to move around tools and bulky raw materials with minimum effort. Some big expensive wheelbarrows allow you to move bricks, cement, and a material like a topsoil without giving a jerk to your back! Wheelbarrows are a blessing in disguise!
What are the different types of Wheelbarrow?
I will now make you familiar with the different types of wheelbarrows that are available, and then you can decide which ones are suitable for you.
Basic
The most basic Wheelbarrow comes with a single wheel and is very easy to handle and get a grip on. However, it requires a little more body strength as compared to newer models that have more tires.
Motorized
Motorized wheelbarrows quickly mean you will have to put in the least effort, and it will give you fantastic convenience. These, however, of course, come with a very high price tag and need a maintenance budget to keep them working over the years.
Gasoline
If you have a problem with pushing heavyweights, then the power or gasoline wheelbarrow is the one for you! These were designed for the same purpose which is the transportation of raw materials but of hefty loads. This type of Wheelbarrow has an engine that runs on gasoline to drive the wheel.
The system is quite effortless and is adapted to provide both forward and backward movements. Such wheelbarrows are helpful in agricultural and construction projects. Concrete, Fertilizer, bricks, crops – you name it, and they can carry it!
But all that shines is not glitter! Gasoline wheelbarrows are highly flammable and must be used with caution. Gasoline also produces carbon monoxide gas, which can prove to be fatal if the area is not ventilating properly.
Electric
These wheelbarrows operate on batteries and carry the same advantages as any other motorized wheelbarrow. But these are much quieter and not noisy because of which they can be used indoors without any worry. They usually have a very long battery life and can save lots of time!
Gas
Gas-powered wheelbarrows are of superior quality and have engines that run from gas.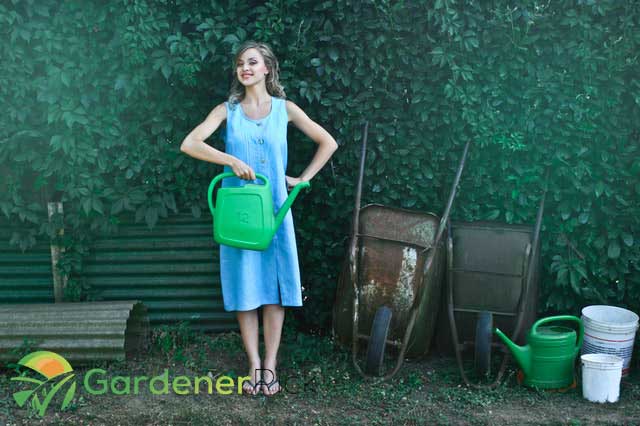 Frequently Asked Questions (Faqs)
What is the functional Wheelbarrow?
A functional wheelbarrow is one that fulfills both your needs and your budget. A functional wheelbarrow should be made of durable material, and should have the ideal Capacity, pegged rests, and non-slip handles. The barrow should itself be lightweight so that it is easy to move it around, and it gets the work done faster. The cart should also be non-rustic.
What is the best Wheelbarrow on the market?
As of now, based on the reviews, the best Wheelbarrow available in the market is Gorilla Carts GOR4PS Poly Garden Dump Cart with Steel Frame and 10-in. Pneumatic Tires, 600-Pound Capacity. It has a 4.6-star rating out of 5 on Amazon; From a total of 2547 reviews. It is priced at $100.
Does Walmart sell Wheelbarrows?
Yes, Walmart has a wide variety of wheelbarrows available at its stores nationwide.
Does Home Depot sell Wheelbarrows?
Yes, Home Depot sells wheelbarrows. They have a massive range of barrows, something for everyone.
Is it a wheelbarrow or barrel?
It is a wheelbarrow and not a wheel barrel. The word "barrow" in ancient times used to mean an "open container." This container was carried by a couple of people to carry around things or people. In modern times, the same barrow has been adjusted by adding wheels, hence now known as a Wheelbarrow. This tool still provides the same service of carrying around a load but can easily be handled by one person.
Final Words
Hopefully, after reading how much does a good wheelbarrow cost content you now have an idea of how pricey a wheelbarrow can be. There are hundreds of models of wheelbarrows available on the market. Based on this article, you can shortlist your needs and then search for a wheelbarrow that fills the void in your life!
The prices vary widely, and you can spend as much as you want, depending on the kind of use you will find ma out of the Wheelbarrow. Focus on all the features mentioned in this article and make the choice that feels right! Looking for a wheelbarrow can be an overwhelming task, so grab a cup of coffee and open your laptop to start browsing for your new Wheelbarrow! If this article helped you and you enjoyed reading it, share it with your friends so that they may also make a better decision in buying a wheelbarrow for themselves! Happy Shopping!