Did you know Hibiscus is the number one choice of bloom lovers? They love to grow it as it lasts for a long time. One of its types  Hardy Hibiscus is strong enough to survive even in the coldest temperature zones.
Why not, have a try, grow this plant in your garden too this year?
Before you plant this amazing bloom, let's find out how to care for it to give lots of blooms. More than 500—.Believe me!
It can bear hundreds of blooms if you care for it well. How can you do extra care of it?
You can water it, prune it and fertilize it.
 When it comes to fertilizer, how to guess which one will do the best job is essential to know. To make your work easier, we've separated a list of six best fertilizers for hibiscus shrubs that you may try in your garden too.
Growers, if you want to make your garden adorable with spectacular blooms, read this article till the end. Here you will find everything you want to know before, and after fertilizing the hibiscus plant.
Best Fertilizers For Hibiscus Plants – Comparison Table
[dpresstable dpresstable_post_id='298′]
Quick Look: 5 Best Fertilizer for Hibiscus Reviews
[dpresstable dpresstable_post_id='1022′]
Our experts have been trying different fertilizers on flowering plants for many years. Manufacturers release the number of products every year. It is hard to decipher all. However, we try trusted brands every year on our blooming plants. What we find is that potassium-rich composts always do the best job. That's why we would recommend you to read the review of top brands in detail before buying anyone. Let's move on now:
1
Hibiscus Plant Food – Our Best Pick
Top Pick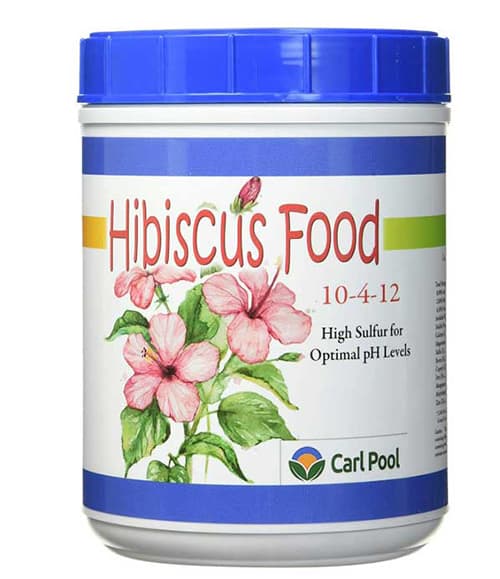 Hibiscus Plant Food
Our first choice includes Hibiscus food because of its balanced NPK ratio of 10-4-12. This product is prepared by trusted Carl Pool manufacturers. A higher ratio of potassium is a specific feature of this fertilizer.
Hibiscus utilizes soil potassium fastly. So, it always needs a higher amount. It enhances the bright color of flowers. Another factor that makes this compost number one is the presence of sulfur. This element is helpful in optimizing the pH of soil.
Besides NPK.it also includes nutrients like zinc, iron, copper, and minerals. In this way, it is a complete solution for all food deficiencies of plants.
This product is sold in the packing of a 4-pound plastic jar. How long will it run depends on the number of plants in your garden or container? You can use it for indoor plants as well but after reading labels. 
Average 1 cup for a 3ft high plant is enough to apply. You can apply it after every 3 to 4 months in the growing season. Water the plant thoroughly after applying this compost.
Did I tell it can be used for a potted palm too? Yes, you can use its prescribed amount for other plants as well but not for all.
Make your hibiscus happy and healthy with this product.
what we love
Fast and effective​
Easy to use
Provides full nutrition
Can be used for palm plants
NPK is ideal for hibiscus
what could be better
Not natural or 100 percent organic
2
Dr. Earth Exotic Blend Organic Fertilizer
Budget Pick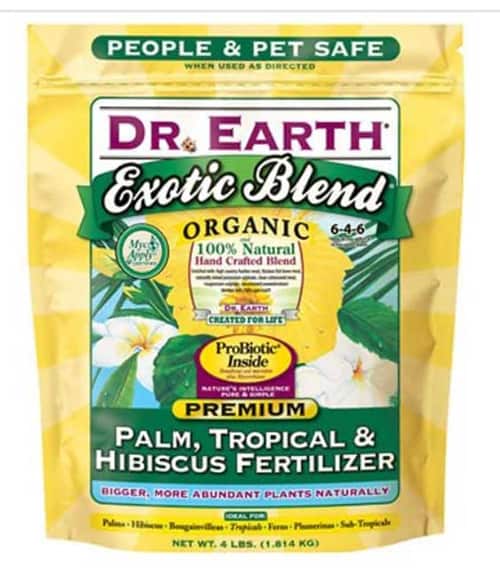 Dr. Earth Exotic Blend Organic Fertilizer
Everybody wishes for their flowering plants to bear bright as well as spectacular blooms. It is easier said than done.No matter how much you care about the plant but without the right fertilizer it could die off even before growing season.
This product is specially designed for organic compost lovers Perhaps it is just one and only one non -GMO product prepared in the USA. It is 100 percent natural with no harmful chemicals and chicken manure. This product is enriched with multi-minerals, proteins, carbohydrates, humic acids & trace elements that promote the healthiest soils capable of growing the healthiest tropical plants in your yard.
Another plus is its handcrafted compost. However, the potassium ratio is quite low in this product but it is still effective. Double-check your soil PH before choosing this Maucompost.
Did I tell you that It is effective on other plants too like palm, bougainvilleas, tropical fern, and plumerinas? Why not choose it and save your extra bucks?
what we love
100 %natural ingredients
Handcrafted
Safe for pets
Effective for other plants as well
what could be better
3
Grow More 5118 Bromeliad Tillandsia Food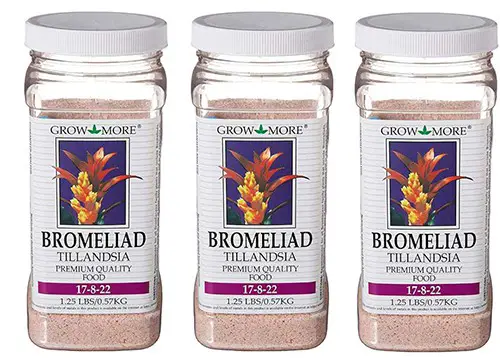 Grow More 5118 Bromeliad Tillandsia Food
Growers are often in search of high potassium and nitrogen ratio for hibiscus plants. 
If you check the label, you can find everything expected in Grow More Tillandsia food. This product contains the desired nitrogen- potash ratio for your plant to grow healthy and bear colorful blooms.
Some growers might be concerned about a high level of potassium but it will not harm your plant. As you can use it for tillandsia, it would be safe for hibiscus too.
One more plus point that you could find in the ingredient list is that it is Urea free compost. That's why you can use it for both indoor and outdoor plants.
For plants that grow on woods or logs, feed lightly. Average ¼ tablespoon per gallon is enough. You can pour this mixture in spray or sprinklers to nourish barks and leaves. Water your plants thoroughly after applying it.
what we love
It can be used for a variety of plants
Good for both indoor and outdoor use
High potassium ratio
Urea free
what could be better
4
JR Peters 51624 Jack's Classic Palm Food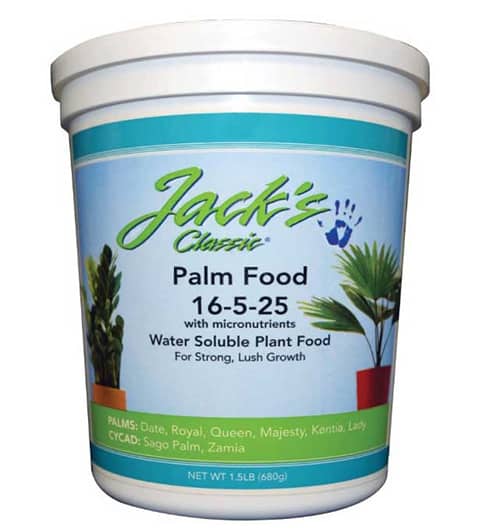 JR Peters 51624 Jack's Classic Palm Food
By name, it is Palm food but not actually. It has a high potassium ratio that is not only a perfect fit for palm but for other varieties of plants also. The last number in 16-5-25 is ideal for vibrant and colorful bloom formation in the hibiscus plant.
This compost works incredibly on cycads, Date, Queen, and Royal palms. Perhaps for this multi-purpose use, it is the best choice of growers for years.
Besides NPK, it contains an ideal blend of essential nutrients like magnesium, micronutrients and sulfur. These traces boost photosynthesis and food formation in roots and leaves. They also help to keep the plant sturdy and strong in a strong breeze.
These granules are soluble in water and can be applied in a spray bottle. It comes in a plastic tub resealed jar with a measuring spoon.
what we love
Easy to apply
Can be used for a variety of plants
Ideal potassium ratio for hibiscus
Extra nutrients to boost plant growth
what could be better
5
HIBISGAIN Hibiscus Fertilizer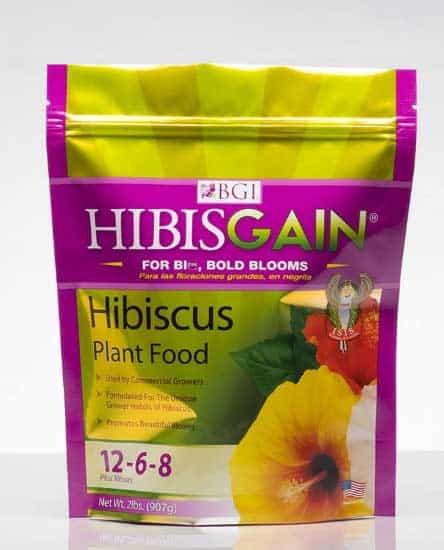 HIBISGAIN Hibiscus Fertilizer
Are you growing plants in your yard or commercial grower? This product is the best fit for your growing needs of hibiscus. If you want to see big blooms in your vast area coverage, it's the best choice.
For Florida growers, this product is bliss as it provides the best match of weather there.
Keeping all the nutritional needs of hibiscus this product is specially designed for this plant. The plus point is that it contains ingredients like sulfur, magnesium, copper iron, and zinc. All of these traces are essential to make plant foliage lush green and strong.
Before we move on, have a look at its NPK 12-6-8. You might be thinking potassium is low but it's not actually low, it's a safe level. Above this level can be harmful to other plants growing in the garden. So, you can use it without any fear of damage to other plants
It is available in polythene pack and can be applied directly on soil.No need of water mixing at all.
That's so simple to use!
The bag has a convenient cut out handle too. it's super easy to open, use, and safe. Water your plant thoroughly after its application.
what we love
Easy to use without mixing with water
Effective on all varieties of hibiscus
Show results too fast
what could be better
6
Water Soluble Banana Fertilizer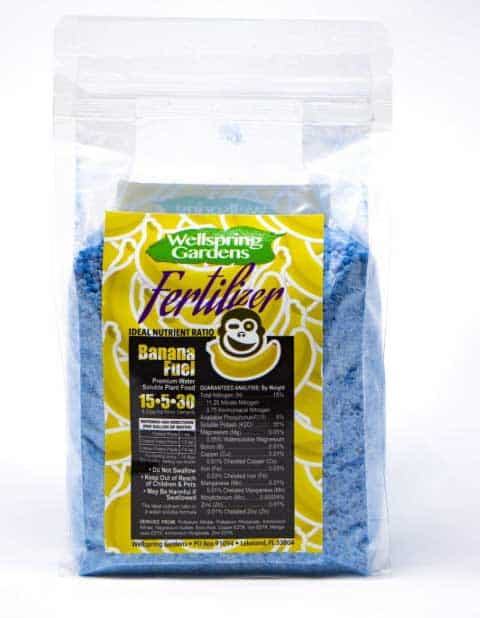 Water Soluble Banana Fertilizer
As the name suggests, it's specifically designed for the banana plant. Why use it for hibiscus then? Strange!
A simple answer is that have a look at its NPK ratio of 15-5-30. Isn't it ideal for hibiscus? You know well that this plant needs the last number higher than others. That's why it's a perfect combination not only for bananas but also for hibiscus.
Before we move on, keep this in your mind that it's a water-soluble product. Don't try to sprinkle it directly on the plant. First, mix its prescribed amount in water then apply it along the drip line. After this, You will see big blooms within days.
Additionally,it contains traces of boron,molybdenum,magnesium,copper,iron,and zinc.These traces are essential to enhance photosynthesis. The plant makes more and more food for itself and looks happier and healthier than before.
You can use it every week or even every two weeks. It depends on the condition of your plants and the number of plants in the aga garden.
what we love
Good for a large number of plants
High potassium ratio ideal for hibiscus
Easy to use
Cost-effective and last longer
what could be better
Contains chemicals not safe for pets
What To Look Before Buying
Buying
We can't simply try any fertilizer on flowering plants. They are more sensitive and delicate. How to choose the right one could be a puzzling task for growers. But you can find one that is perfect for your plant through proper research. What should you think before choosing any compost? Here's a few deciding factors that can help you to determine the best match for your plant
Check  NPK of Fertilizer for Hibiscus Plant
By far you know fully well that hibiscus requires a high ratio of potassium and nitrogen. So, before buying any product, double-check its last number. It should be higher. This plant bears a number of flowers that need potassium as it essential for bloom formation and color vibrance. However, don't buy those products with extreme potassium ratio. Extra potassium may result in plant damage or even other plant damage in your garden. The ratio of K should never exceed beyond 30. Under 30 is the right number. But it's more a matter of experience rather than guess. You can observe your plants well according to temperature
Check Soil PH
What should be the right PH for your hibiscus? It's important to know!
For ideal growth, the PH of soil should be between 6.5 to 6.8. Before planting and fertilizing, test your soil for this factor also. Sometimes gardeners apply fertilizers and don't get expected results. They think the compost might not be of good quality. But the reason is something else. It could be the PH factor of soil that could affect your plant growth negatively.
If you find soil low in Ph then go for fertilizers that could optimize this value from 6 up to 6.8.
That's really a contributing factor. So, consider it well before seedling.
Check Other traces of Nutrients
Make sure, your fertilizer should be a combination of traces of elements like copper, magnesium, zinc, molybdenum, and iron. Flowering plants like hibiscus need more energy from the soil. It's possible only if you feed them with extra nutrients. Check the label of the chosen product and search whether your fertilizer includes these traces or not.
When To Fertilize Hibiscus
It mainly depends on what type of fertilizer you prefer for your garden
Whether you prefer the slow-release formula or fast-release formula.Important to note that this plant needs fertilizer frequently to grow well. But make sure overfeeding can be dangerous. So, follow the instructions written on the label of your chosen product well to avoid any mistake.
For slow-release formula, you need to fertilize your plant 4 times in a year
Early spring near march
After the hibiscus tree finishes its first round of blooming
 Midsummer in June or July
Early winter in October or September
For a fast release water-soluble formula, you can use it after every 2 weeks in the growing season, before growing season and in the fall.
However, you need to understand well when your plant needs fertilizer or not. Each plant has different needs accordingly. So, get the advantage of your observation and experience as well.
Tips of  Fertilizing  Hibiscus
Fertilizing this plant is pretty simple, but there are few tips that can help to do this without any hassle:
Always fertilize out of the edges of the tree canopy. In this way, roots will get more food to grow well. Growers often do the mistake of putting fertilizer near trunk that does not reach the roots properly
If your plant is not bearing enough flowers, it might be due to overfeeding. To lower down this effect you can add phosphorus to the soil. Surprisingly, blooms will get back.
Water your plant thoroughly after fertilizers that are granules and spikes mainly. Though it's not needed for water-soluble products.
Conclusion
Selecting the best fertilizer out of hundreds seems to be tricky. But with knowledge, research, and experience you can use one that is a perfect fit for your hibiscus.
All of the above products are tested personally in our nurseries. You can choose anyone without any doubt. It's time to wow your friends and neighbors by showing your blooms.
Hopefully, they will also love to learn from your experience.
Wishing you the best of luck for healthy blooms this year.