Are you planning to make a grow room for planting? Why don't you try a grow tent instead? Well, we will answer all your queries. 
Growing a tent is the most important part of gardening inside and their settlement is easy if you know what you need.
Why do we prefer to grow tents? Simply, it is less expensive than a grow room. It allows you to grow plants successfully in any kind of environment.
Basically, you are the weather in this case.
So, how do you set up a 3×3 grow tent yield?
If you have a small space for indoor gardening, it is the best size for a grow tent. Try to purchase the best quality tent and follow the instructions printed on it. Lighting, humidity, and temperature are also critical to set a tent. A grow tent allows you to be a weather controller in  all these conditions.
Remember that the grow tent itself is only the exterior structure. To make a proper indoor gardening system, you need many other pieces of equipment and gather them in a way that will help you to set a suitable plant growing atmosphere. 
This process may seem complicated if you are doing it for the first time. But don't worry! We are here to help you in all the processes.
Let's start learning to make your best 3×3 grow tent yield.
Why Should You Use A Grow Tent
Why do you need a grow tent? Have you ever thought about it? Let me tell you!
The main purpose to build a grow tent indoors is that it enables you to grow crops or plants around the year regardless of the season. Through a tent you can control growing conditions 
completely.
A grow tent means you have the best harvesting ways, proper growing, or fewer problems of pests and diseases. 
There are two main reasons to make a grow tent ideal choice for you to run an indoor garden. These are listed below:
Systematic Use Of Space & Environmental Control
A grow tent makes it easy to grow plants indoors, building a grow room, and organising that space. Grow tents allow you to have different environmental conditions in the same room. 
They provide a cleaner environment than the outdoor setup. 
Simplification of Gardening
What benefits do grow tents provide you? Let's see!
There is no need to build a grow room.
Grow tents can easily set up and transport your growing environment.
Grow rooms are expensive. So, grow tent saves money.
You can set up or deconstruct it in just a few minutes.
They simplify other growing equipment. 
How To Setup 3×3 Grow Tent
After purchasing a grow tent, how do you fit it properly? It is important to know because lack of knowledge will prove wasteless. All setup processes are mentioned below with all main points. Follow the instructions step by step and don't skip any point.
Material You Need
The most important part to arrange a grow tent is collecting material. If you have gathered all basic equipment before setting up the tent, it will make your work easy and save time. We are going to list all necessary things you need.
Grow Tent
It is the main element you need. Before the settlement of the grow tent, chose the place to set it. You should have a big place, so make sure that the tent you buy has enough vertical height. It may help to take in the types of plants you want to grow and many other extra tools.
Here we help you to choose a suitable grow tent. Maxsisun 2021 Hydroponic Indoor Plants Growing Tent is the best of the best as it adopts a Mean Well driver. It provides the guarantee for the best quality of power supply. 
It is made up of tear-proof canvas and has strong metal poles and corners. There are three roof bars to hand lights and other types of equipment.
Grow Light
Now, why do you need to grow lights? It is the only source that gives your plant energy to collect the nutrients you provide them. They are one of the most important materials you have to buy. Pick the best grow light that may be perfect for your grow tent.
There is no need to give your plants too much light as it may cause the burning of plants. It doesn't mean they need too little light. Always set the lights in balance. For a 3 by 3 foot tent, ideal wattage for grow light would be 400 to 600 watts.
Here is the list of things you need while setting up grow lights: 
Balance: We need balance to set the lights according to the requirements of plants. Through it you can make low or high lights when you want.
Reflector: It is used to reflect and direct the light to focus on your plants. It saves the energy from losing and allows the plants to get enough light output.
Hanging Equipment: To hang grow lights you have to need some metal wire, hook, or lever. You may also use a strong rod to hang up the light at the top of the grow tent.
Power Strips: It is an electric socket that is attached to the end of a cable, plugs into an electrical receptacle. You can set it anywhere you need.
Timer: Grow light timers help to regulate the grow lights power sources. With the timer, you can set the light to display your plants in specific hours every day. In this way grow lights last longer.
Relevant Ventilation
Do you find your grow tent often very hot?
Do you feel your grow tent needs to be smell-proof?
If your answer is yes, You need to pay more attention to your grow tent ventilation. For healthy growth, your plants need enough air exchange.
Carbon Filters: They are attached to ventilation to remove gasses and clean the air circulation. Carbon filters refresh the air of the grow tent and clean odor and other allergens.
Ducting: Commonly, ducts use ventilated air as part of supply air. They are like passages used in heating and ventilation. It exhausts air from the grow tent.
Duct Clips: It is used to hold flexi-ducting onto the brim of an intake carbon filter. They are a strong metal band that firmly grips the filters.
Can Fans: Can fans are designed to save energy. They lower the lifetime cost of energy by 70 to 90%. They also speed controllable. 
Other Tools
There are many other tools you need to build a perfect grow tent. But not to make it comlex for you. So, try to gather only essential tools. Here is the list of basic meters you need.
Step By Step Process To Fix A Grow Tent
Hopefully, you have understood the importance and usage of all materials you need for a grow tent. Now we discuss it in detail how to fix it and make it ready for planting. To make it easy for you, we are going to present it step by step. So, that you may not skip anything. Let's start: 
Step 1-Construct Grow Tent
Often you become confused to see a number of tent brands. You don't know how to settle them after purchasing one of them. So, we make this section easy for you by selecting the similar building process. With this process you can set any type of grow tent.
Basically, there are two main parts to assemble a tent:
Assembling the frame
Putting on the fabric
Just take the frame of the tent, set it on the selected place where you want the plantation and put the fabric on it. 
Step 2-Set Grow Lights
The next step is to set grow lights. This is as easy as to set up holders, hooks or wires.If you are using LED grow lights it is more easy than you think. There are three main steps to set lights:
Set up holders: Many lights have mounting hardware to attach to the lighting to the crossbar of the frame. So, follow the instructions printed on the label to set it perfectly.
Attach hood: After securing the mounting hardware, attach the lighting hoods to release the light towards the plants.
Organize wiring: Roll the wiring and set it out of the way safely, to avoid any electrical danger.
Step 3-Ventilation
Select the best place for the fan and carbon filters. Both are crucial for ventilation. It is recommended to hang both of them inside the tent to make it ventilated. It is ideal to hang them close to the top of the tent because it removes the hot air, rises to the top of the tent.
After choosing the place, hang the carbon filter with one of the tent crossbar with the help of hanging tools. Now hang the exhaust fan pointed towards the carbon filter and fix it directly towards the tent ventilation opening.
Measure the distance between filter and fan, then take wire cutter and box cutter. Cut ducting at the desired length and install between filter and fan. Then run the power cord through the nearest power cord hole in the tent and start ventilation.
Step 4- Safety Scan
After setting up the tent the main and final process is dialing or safety scan. It means figuring out a balance between environmental factors such as airlow, humidity, and heat. In this step you may also test your requirements.
Check all the things whether they are securely fastened or not. Shake your tent slightly to check everything is perfectly placed.
Things To Do After Setting Up The Tent
Finally, our 3 by 3 grow tent is ready for planting. So, what would we do now? Some important steps which you have to adopt after setting up the tent are listed below:
Select right hydroponic system
Start seedling
Give nutrients and water regularly
Watch and learn with your plants
That's all. Set the right hydroponic system and start seedling the plants you want. Feed your plants with proper plant food and take care of irrigation. Watch them regularly to learn more things from it.
How Do You Maintain Your Grow Tent
It is very important to clean and maintain your grow tent before starting the new crop. First wipe the surface down with bleach or hydrogen peroxide. It will remove any disease or pathogen from it. Then scrub all the pots and components that you are going to use in the subsequent growing season.
After that use a paper towel to wipe down the walls. Keep the tent empty for some time to set it dry.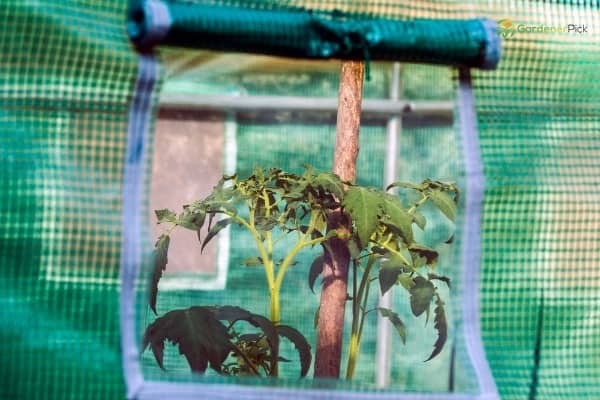 Frequnetly Asked Questions
How Many Plants Can You Grow in a 3*3 Grow  Tent?
If you are planting merijuana, each plant needs 2 square feet of space. So, you can grow 4 plants in 3 by 3 grow tents.
What Size Pots You Can Put in a 3*3 Grow Tent?
If you are growing flowers, you can put two plants in 3-gallon pots. To grow cannabis, 4 plants can fit easily in such a tent.
Do Grow Tents Hide Smell?
The precise answer to this question is No. Grow tents are not smelled proof. You have to be cautious if you want to conceal the smell.
Final Thoughts
Finally, we have reached the end of our amazing journey of the best 3×3 grow tent yield. Hopefully, you have learned a lot that you have not expected.
Now you should feel confident to select your own choices when you set up your grow tent. We have mentioned all the basic steps and necessary materials to run your own dialed and enjoy the automated system.